About Us
Aplus Technology Inc established its operations in Taipei in September 1993 exclusively for the production of premium quality, high end memory modules for all types of computer systems including:


servers, workstations,


routers, x-stations,


Windows-based terminals,


industrial personal computers,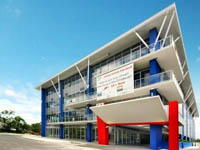 laser printers


and personal computers under all commercially available platforms.

At Aplus, we cannot stress quality enough - as the work is at the leading edge of applied memory technology, a quality product is merely the beginning in the recipe for excellence - we strive for quality across all areas of production and service and maintain a high level of support for all clients.
Through innovation and understanding of the market, our R&D, production, testing and marketing teams continually develop a large range of solid state memory products for all applications, and it is our aim to stay at the forefront in terms of product evolution, not only to serve the immediate needs of users but also to anticipate their future demands on RAM.

Our advantage lies in our in-house design, engineering and sourcing expertise - by utilising our broad supply network and the latest chip technology, our current line-up includes:


DDR5-4800 / 5600


DDR4-2133 / 2400 / 2666 / 3200,


DDR3-1066 / 1333 / 1600 / 1866,


DDR2-400 / 533/ 667 / 800,


DDR 266 / 333 / 400,


registered high capacity memory module


and SDRAM PC-100, PC-133, PC-166 compatible components

We are able to manufacture and supply memory modules meeting the full compatibility for all RISC and CISC operating systems.

Aplus Technology has been awarded the ISO 9001 certification since 2000. In compliance with this prestigious quality standard, state of the art manufacturing equipment and processes are being used to ensure our memory modules are the best quality. Only quality first-tier, branded chipsets are used, the manufacturing process is meticulously monitored and all finished products are 100% tested before shipping.

The Aplus promise:
Our high quality modules can be run at maximum capacity for sustained periods - and we back it up with a lifetime guarantee for absolute customer satisfaction. In addition, we are established well enough and large enough to match and surpass the quality of larger manufacturers, and yet flexible enough to address the needs of individual stakeholders. Prompt Response; Punctual Delivery; Full Technical Service and Customer Satisfaction are our mottoes.
Aplus Memory Module products:


Memory for Notebook, Desktop PC, Server, Workstation, Laser printer


64GB / 32GB / 16GB / 8GB / 4GB / 2GB / 1GB / 512MB / 256MB / 128MB / 64MB / 32MB / 16MB for Full Range Memory Size


DDR4 / DDR3 / DDR2 / DDR / SDRAM / EDO /FP to DIMM / SODIMM /SIMM


30 / 72 / 100 / 144 / 168 / 184 / 200 / 232 / 240 / 204 pins Memory Module

History of Aplus
Aplus strives to maintain the high level of support for all clients. Through innovation and understanding of the marketing, we research and produce many different kinds of cutting edge memory products.


Overview of Australasian office
The Australian sales office was established in early 2004 to handle all marketing, sales and distribution in the Oceania market. Currently, with a client base in all major cities in Australia , Aplus continues to expand its operations in this region.
Not only are the friendly staff at Aplus able to professionally handle all sales enquiries, they are also more than happy to assist you with technical and compatibility queries, eliminate the need for you to do your homework and prepare for background research prior to calling in for an order.

This is our promise at Aplus:


Total Satisfaction Throughout Entire Customer Experience


All Aplus memory modules are backed by Life Time Warranty


Highest Quality and Reliability - ISO-9001


Prompt Response


Full Service & Support


Punctual Delivery


100% Compatibility


Quality statement including all int'l standards